Their prodigious footballing talents were spotted at an early age, and they were soon snapped up and attached to the biggest clubs.
They won professional contracts, sharing dressing rooms and bedrooms with some of the biggest names in world football.
Some even played at the top level, but what happens when a football career doesn't work out as hoped or predicted? When injury, ill-fortune or opinions become entangled with an upward career curve?
The majority of footballers tied to football clubs at age 16 don't make a long-term career in the game, even those rated as the best in the country. Some crash and burn, full of blame, resentment and bitterness about how they didn't make it.
Others take positives, pick up the pieces and restart their lives with great success, but how do they look back at the time when their football star shone brightly?
Were they given a fair chance? Do they have regrets? Or can failure make a person stronger?
We met three players face-to-face, where they were good enough to tell us their story for the first time.
Arnau Riera
Lionel Messi's first captain as a professional footballer was a quiet Mallorcan called Arnau Riera.
I grew up in Manacor, a town of 40,000 in Mallorca, famous for artificial pearls and Rafa Nadal.
I started playing football aged five. At 16, I was offered a place in the academy of Mallorca, the biggest team in the Balearic Islands, which had reached the final of the Cup Winners' Cup.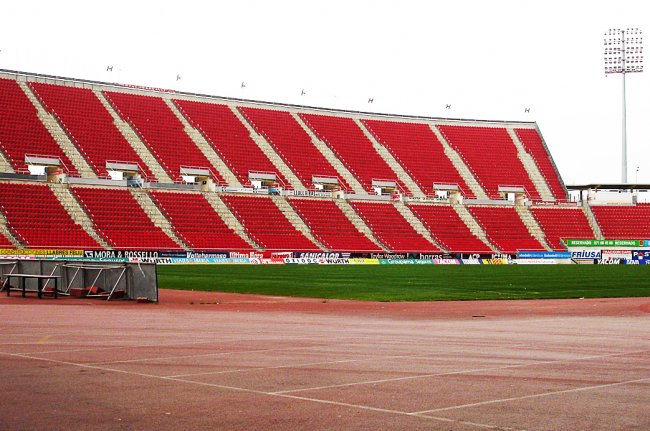 Wikicommons
Iberostar Stadium, home of Mallorca
I wasn't a brilliant footballer, but I was a clever one and had two very good seasons there as an attacking midfielder, scoring goals and earning €450 a month. It felt great being paid to play football every day.
After two years, when I didn't progress to the second team, I found myself an agent who got me a move to Mataro, an industrial town north of Barcelona, in the Segunda B (Spain's regional third division). I was 17 and bought to be a first-choice midfielder, but it didn't turn out like that.
I lived in an awful, small flat, rarely going out because I was so focused on football. One night, I felt that I had to find some company and went to a bar. Everyone was high on drugs and ignored me. I stood for an hour with a beer before returning to the flat.
I told my manager I'd not been given a chance and that I was leaving. I returned to Mallorca, confused.
My agent called again: "There is an option to join Barcelona. They know you from the youth academy of Mallorca and followed you as a child in Manacor."
This was my big chance. I went to Barcelona for two weeks, and the level wasn't as high as I expected. I did well.
The coach, Quique Costas, offered me a contract for the third team, €700 a month, good enough to live on. I was 18.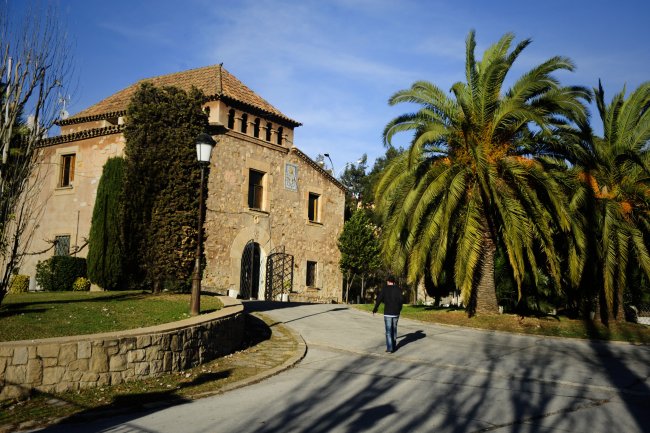 AP Images
Barcelona's famous La Masia
Barcelona seemed so huge. I lived in the famous Masia, my bedroom a small apartment inside the Camp Nou itself. When my room-mate stole my shin pads, I decided to get my own place. I was mentally strong, but I could see how people become overwhelmed at Barca. 
I wasn't afraid to make mistakes and was happy to express myself on the pitch. I did a pre-season with the B team and was asked to stay. I was 100 per cent every time I went to training. If not, I knew there was a player from the C team waiting to steal my place. I'd been that player.
After three years, Barca offered me a new deal on €120,000 a year, plus win bonuses, and made me team captain.
I got a better apartment and bought a Golf car, but I didn't believe I had what it took to make the first team. You need something very special. I didn't score goals; my performances were seven out of 10, never a 10.
I trained with the first team for the pre-season in 2004. All those players were at a top level physically, mentally and psychologically. They knew they couldn't afford to make mistakes. I saw Ronaldinho doing unbelievable tricks. That destroyed me. I'd think, "They're too good; I can't get to this level."
I was in the same team as Andres Iniesta and Thiago Motta—my midfield partners. Victor Valdes was in the team, Jordi Lopez (now Sunderland), Fernando Navarro (now Sevilla) and Oleguer Pressas, Roberto Trasoras (now Rayo). We had a great side, but I initially sat in the dressing room and I thought, 'I'm with some really, really good players. It's going to be hard as hell to find a place in the eleven.' But I did.
I was called up to play for the first team in friendlies. Then I was put in the first team for league games against Osasuna and Valladolid and sat on the bench. I was ready to go on in Camp Nou; there were no nerves.
At the start of the 2004-05 season, I was introduced to a new player called Lionel Messi. I wanted to show him how tough it would be at our level and tackled him hard in his first training session. He flew up in the air, landed and dusted himself down.
Some players would react angrily, but he didn't complain. I would never have said he would become the greatest player of all time.
I stayed for five years. You get a lot of attention when you play for Barca, even in the second team. Doors open for you. I saw many who thought the good money would last forever. They gambled; they drank. I didn't—and I kept my childhood friends.
I wanted first-team football and fancied England. I switched to an English agent, and Southampton, Sunderland and Hearts immediately showed interest.
I went to Sunderland on trial, and new Sunderland manager/chairman Niall Quinn offered me a three-year contract: £3,000 per week, with £1,000 extra for each appearance and win bonuses. I celebrated by buying a Mini. I was advised to buy a BMW, but I didn't want to drive around Sunderland, which isn't a wealthy town, in a fancy car.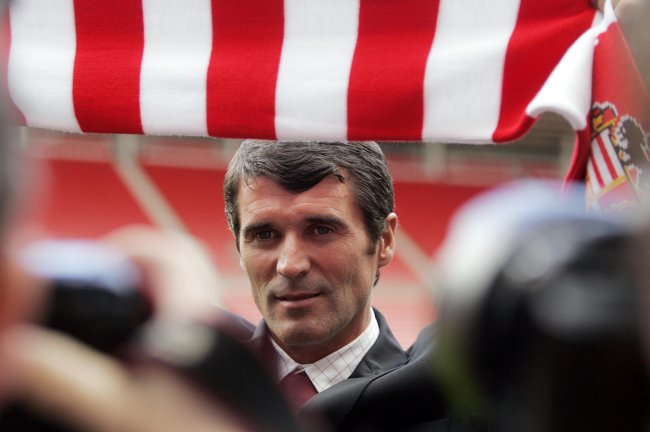 AP Images
Roy Keane is unveiled as Sunderland manager
I sat in the stands among the Sunderland hardcore supporters as they played Plymouth, wanting to learn what the club meant to them.
Afterward I went into a working men's club. People on the next table were discussing their new "special" Spanish player from Barcelona. I introduced myself, and they were very friendly.
In my debut at Southend United, despite coming on at half-time, I won the man-of-the-match award, a big bottle of champagne.
I could not believe how many Sunderland fans there were. I'd never seen anything like it in Spain. We lost, but a team-mate told me I had to clap because they were singing my name. I threw my shirt into the crowd. It was a highlight of my career.
In Sunderland's next game, against Bury, I was so desperate to succeed that I was too nervous. I raised my elbow, and the player behind me went down…straight red…after three minutes…an automatic three-game ban.
I sat at home alone the next day seeing my name repeatedly on Sky Sports for being sent off. Two days later, Roy Keane was appointed manager.
Keane never gave me a chance, he told me that I wasn't in his plans, which I appreciated, and then never spoke to me again. My confidence drained away. I was living by myself in a foreign country.
Loans followed—to Southend and then Falkirk in the Scottish Premier League, where I stayed for two seasons.
I loved living in Edinburgh and became more fluent in English. You have to be brave to play in Britain. You have to commit to a tackle; the fans won't accept it if you don't. A goal I scored in August 2007 was voted Falkirk's goal of the season.
Falkirk reached the Scottish Cup final, and I was playing every week. I loved the British black humour. In training, the last player to strike the crossbar from the halfway line had to take his clothes off and jump in the mud in the middle of winter.
I spent free days off working in the community with autistic children.
Falkirk wanted me to stay, and I should have. But my girlfriend came from Portugal, and I wanted to move there. I also turned down Blackpool, which rightly annoyed my agent. They were promoted to the Premier League.
I was not thinking straight. My contract expired at Sunderland in 2009, and I returned to Mallorca without a club. When the money stopped, I had to make big cutbacks, even though I've always lived sensibly; I joined Mallorca's second-biggest club, Atletico Baleares, on €1,000 a week.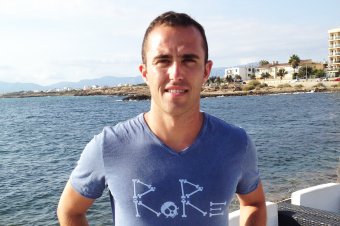 Arnau Riera, photographed by Andy Mitten
After 10 games, I put my foot on top of the ball and felt searing pain. I'd ruptured my cruciate ligament.
Niall Quinn invited me to train for free and use Sunderland's facilities. He's a special person, a gentleman. Julio Arca, the Argentine former Sunderland star, let me stay at his house for free. My agent remained in constant contact and didn't drop me.
I'd worked my way back to full fitness at Sunderland by January 2011. Then, incredibly, I ruptured the cruciate ligament in my other knee in training. I couldn't believe it. That pain when your cruciate goes is like no other.
After my second operation, I decided football would no longer be my priority, and I'd complete my studies in social work.
But I did wonder if I would ever enjoy playing football again. In June 2011, CD Manacor, my local team, were promoted to the third division. They asked me, then 30, to play alongside boys I'd grown up with. I didn't have the same confidence in tackles or the speed. I retired soon after.
My biggest mistake was to be too nervous in games. I would have been a better player if I'd relaxed. And maybe I would have enjoyed playing more.
I felt empty when I retired. Football dominated my adult life. And then it goes. I was annoyed my career ended like that. But there are not many happy endings in football.
It's now three years since I retired. It was a wonderful life, but I don't think I'd recommend it to children of my own. Too many things can—and do—go wrong.
I work in a hotel now near my home, which I bought with football money. The English comes in useful, and I'm finishing my degree, intending to go into social work.
I still have the Golf from Barcelona, too.
Richard Irving
At 16, Richard Irving was the best player for his age in England. He played for both England Schoolboys and Manchester United in a year above his own age group.
I was born in Halifax, West Yorkshire, in 1975, and even though Halifax is a rugby league town, my younger twin brothers both played rugby union for England U18s.
I was interested in football, however, and supported Manchester United, though I'd also watch Halifax Town at the Shay. I was soon representing Calderdale, the local area, then West Yorkshire, the region.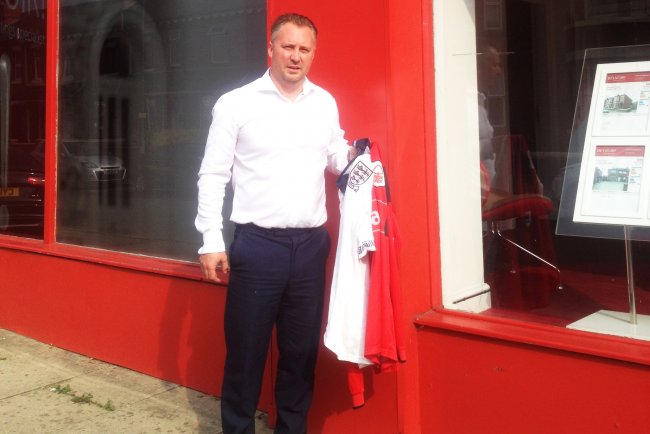 B/R
Richard Irving holding Nottingham Forest and England shirts he wore
Without wanting to sound big-headed, I could see that I was the best player—I can't recall a game when I didn't score. I always played with boys a year older. I did that all the way up to Manchester United's youth team.
I usually played centre-forward or dropped back to midfield if we were losing. I was really quick and could run 100 metres in 11 seconds. I could finish, too, though I wasn't good in the air.
At 14, I went for trials at the national school at Lilleshall. After six rounds, I was one of 16 chosen to live away from home for two years and play football every day.
I was also playing for England Schoolboys and scored the best goal of my career against Scotland at Wembley. I was having a stinker of a game when I chased a ball toward the corner flag, nutmegged one defender, beat another and curled the ball into the top corner in front of 60,000!
If people asked me what I was going to do if I didn't make it as a footballer, I'd tell them I was going to be a pilot. Grandad had been a Spitfire pilot in World War II.
I enjoyed Lilleshall. We'd occasionally go into the nearest big town, Telford. The local girls liked us because they thought we were future football stars.
I took my GCSE exams at Lilleshall. I'd become lazy, but my teacher said I should be getting eight good GCSEs, so I knuckled down and passed them.
In 1992, I moved to Manchester and lived in digs. After only a year as a youth trainee (normally you have two years as a trainee), I signed a three-year professional contract, but I was playing in United's youth team a year above myself with many of the players from the famous class of '92.
I played up front with the likes of Paul Scholes, David Beckham, Phil Neville, Nicky Butt—and Robbie Savage. Gary Neville was our captain. I took Savage's place in the team and never saw eye to eye with him because of that. He mentions in his book that I took his place because our coach, Eric Harrison, was from Halifax like me.
But Harrison was actually harder on me. He'd tell me that I couldn't head a bus queue, that I should have been a hurdler because I jumped every tackle.
We reached the 1993 FA Youth Cup final against Leeds United. Everyone expected us to win it, and more than 60,000 saw the two games. We were bullied by nasty sides—everyone wanted to beat us as we were the holders. Leeds won.
Only Butt and Scholes were hard as nails. Gary was hard but wasn't fully formed physically. I was probably the most immature.
I was comfortable at that level because I was so quick that I could get away with playing older players. Having great players around me helped a lot, too.
Becks was always immaculate off the pitch and had to have the best of everything. He bought Giggsy's old car, a red Escort. It was all souped up but had a small engine.
The team had fine players, good camaraderie and socialised together. We'd go to the Lee Sharpe corner in Royales (a big Manchester disco). Girls would come up to us and say: "Will you tell Ryan Giggs/Lee Sharpe that I'm a great kisser."
We were winning every week and working hard to be footballers. Scholesy was the best, always in the right place and saw things which others missed.
Phil Neville and I were the youngest in the team. Phil's got huge feet. We roomed together, and I'd stay with the Neville family in Bury. If we beat Gary at golf, he'd go crazy.
Butty was the man of the group, a tough Mancunian. Keith Gillespie once irritated him until Nicky said: "If you do that once more, I'll knock you out." Keith flicked him with a towel again. Butty punched him. Keith listened to him in the future—we all did.
Michael Cooper/Getty Images
I then played in the right youth team for my age, the class of '94. We performed poorly in the Youth Cup.
I did a further year as a professional and was top scorer in the reserves. I went to see the manager, Sir Alex Ferguson, to see why other players were getting promoted to the first team ahead of me.
Sir Alex said: "I'm worried about your lack of height, and you're a bit lightweight. I want to see you develop and will give you another year." I didn't like what he said.
When Nottingham Forest came in for me in 1995 and doubled my wages to £900 a week, I was happy to go there and join mates from Lilleshall.
They paid £75,000 for me, and I was put into the first-team squad. It was a friendly club, but it was the wrong move. I joined a party club not a football club. My golf handicap went down to four. I should have stayed at United and worked hard.
Ex-manager Brian Clough would come to training and get apprentices to walk his dog around the pitch for £20. He'd bring them ice creams, too.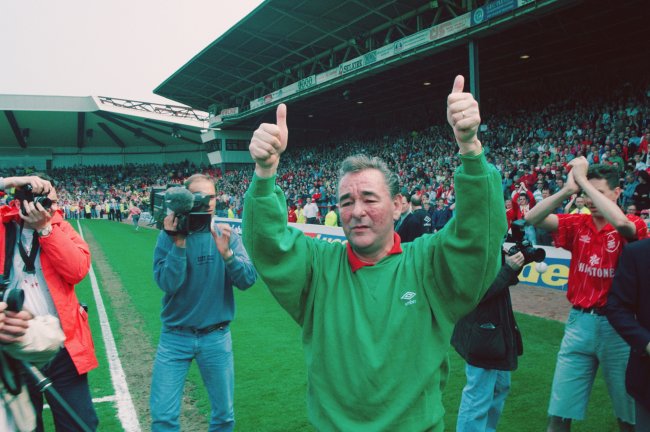 David Cannon/Getty Images
Legendary Forest manager Brian Clough
Ironically, I made my Premier League debut against Manchester United. I came on as a sub and missed an open goal. I tried to make it look good when I should have just put the ball in the net. I was already celebrating in my mind. The biggest sitter of my career and I missed it, live on television.
Stuart Pearce, our captain, said afterward: "You'll never forget your debut, will you?"
I started to develop hamstring problems, not enough to stop me playing, but they cost me a yard of pace—and speed was my selling point. I couldn't break into the first team and went on loan to Aberdeen.
By that time I'd lost heart. I was 23 and wasn't enjoying being a footballer. In truth, I'd stopped enjoying it in my final year at United. I played for Macclesfield, but I'd had enough.
That's when I decided to be a pilot. I was 24 and lived away for two years, including four months in Florida to get my flying hours up. I had some money and took a loan to pay for the classes.
I became a commercial pilot with Britannia, but then 9/11 happened and work dried up. Instead, I took a job as an instructor. I also started buying houses and doing them up. That became my business, but I still love to fly. My dream is still to fly in a Spitfire.
Now I franchise lettings agencies. I've still got season tickets at United and go when I can.
I always did everything early in football, but I never made the transition from being a great youth footballer to great adult footballer. I knocked on the door for long enough, but it didn't open. Maybe I wasn't hungry enough.
Everything had come to me quite easily, and I probably felt that I didn't have to spend the extra hours working on the training pitch like the others.
I was delighted for my former team-mates when they deservedly won the Champions League. Gary Neville studied and studied to be the best right-back that he could. Beckham stayed behind after training, too, when I wanted to get on the golf course.
I've got no real regrets, though, nor any bitterness.
Richard Flash
Aged 13, Birmingham-born midfielder Richard Flash received offers to join 13 different clubs. His mother told him not to sign for any of them.
I was born close to Birmingham city centre, the son of Jamaican parents. Growing up on an estate near Edgbaston, the youngest of three, in a multicultural environment was a very positive experience.
I played football every day, often against bigger boys. I didn't have any coaching, but I became a good little footballer on those streets.
Aston Villa, my team, were European champions in 1982, but I played football more than watching it, initially for an under-10s Sunday team.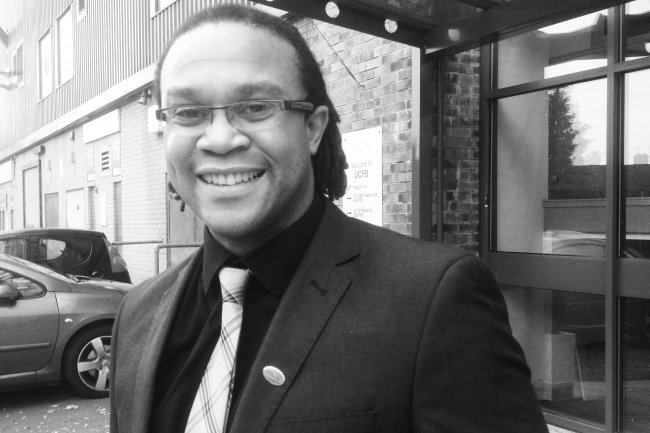 B/R
Richard Flash
My dad was into cricket, but mum loved football, supporting West Brom because of the Three Degrees—the three black players, Cyrille Regis, Brendon Batson and Laurie Cunningham.
I was asked to train with West Brom at 11. Their manager, Nobby Stiles, a World Cup winner, took the session. I saw my hero Regis there, but I didn't speak to him. My mum did, but then she was an inspirational lady, later awarded the MBE for services to sport and the community.
She'd drive young footballers to games all around Birmingham. She was like a mother to many young boys lacking parental guidance in their lives.
I trained with Birmingham City—wearing a Villa shirt under my tracksuit—and they wanted me to sign, but my mum said no. She didn't think I should be pressured.
I then trained with Villa, but there were a lot of egos; some 13-year-olds thought they'd made it because they received free football boots. My mother kept my feet on the ground. She was a scout for Villa and Birmingham and still is at 73. She knew football.
I was a central midfielder who could pass long range, turn and score. I could be a right winger, took free-kicks and I was very strong. I wouldn't lose tackles, and my nickname was "Tank."
Word spread, and I soon had 13 clubs after me: Arsenal, Liverpool, Spurs and all the Midlands clubs. At 13, I was probably the best player at my age in the country.
Manchester United's Midlands scout approached my mum. He'd watched me several times and invited me to United in the school holidays. I did well and became captain of a team called Manchester Eagles—a feeder team in the Midlands.
Terry Cooke and David Johnson had both played for it. They'd become professionals.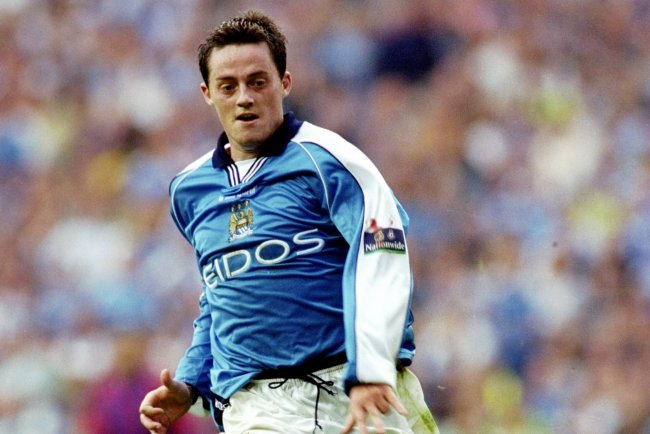 Tony O"Brien/Getty Images
Terry Cooke, in action for Manchester City
United hadn't won trophies like Villa, but their coaches were friendly and attentive. The mood was much better, and there was no pressure to sign anything.
I was introduced to Sir Alex Ferguson but didn't really understand his accent. I think he said that: "If you're good enough, you're old enough. We have a lad here called Ryan Wilson [Giggs], and he's got a great future here."
Giggs was the carrot for us to work hard for two years to get an apprenticeship, but I played far too much football.
I was in three or four teams in Birmingham. With training, I was playing football every day.
In one game when I was 14, I stretched to reach a ball and ended up sitting on my backside with my legs in front. I heard a crack in my knee. I got up but struggled to walk. The United scout was watching, shaking his head.
United players, including Beckham, train at United's Cliff Training Ground
I waited to be seen in the hospital for three hours. They discharged me, and my knee swelled up. I'd dislocated my kneecap, not that I realised it. I'd get a sharp pain in the back of my knee, but I pretended I was OK and started playing again.
My knee never felt right, but I didn't tell anybody. I was under pressure to earn a United contract, more so because my injury was hampering my game, but I won a two-year contract after a few more trial games.
I remember seeing Paul Scholes; he was tiny, and I didn't think he was any good.
I moved up to Manchester in 1993, still wearing my brother's boots; I'd always worn his hand-me-downs. I earned £39 per week and lived in digs with David Beckham near the Cliff training ground.
Pete Smith, another guy in the digs, didn't get a professional contract and became a postman. I didn't tell anyone about my knee, but I kept picking up niggling little injuries—probably associated with the knee.
I couldn't lift any weights on the problem knee in the gym, but I disguised that.
Richard Flash, pictured outside UCFB Burnley FC
I travelled to the Milk Cup, a famous youth tournament in Northern Ireland. We performed poorly and decided to go out for a few drinks after the final game. We were 16 and not allowed to drink alcohol, but that didn't stop us.
Word of our drinking reached Sir Alex. After training a few days later, he asked us face-to-face if we'd drunk alcohol. Most of us admitted it; some lied. The dressing room was never the same. We all had a warning letter sent home saying that we'd be out of the club if it happened again.
A few months later we went for a night out. The gaffer again heard of this and got us all into his office, where he made us sit down while he told us that we wouldn't make it as professionals if we weren't professional.
He told us the year group above us were far ahead of us. It was true.
The class of '92 were regularly beating us 7-0 in training. I frequently tried to mark Scholes but struggled. I was fast, but I couldn't read the game as quickly as he could. He could turn and leave you for dust.
In a B team game, my knee cracked again. I couldn't run and came off. Because I'd had a few injuries, the perception was that I was soft. The physio didn't look at my knee but told me to have a bath. My knee swelled up that night.
I went into training the next day, and the physios looked at me properly. That was the beginning of the end. I had three operations over the next year-and-a-half and tried to build my fitness up, but I couldn't twist and turn.
I often watched my team-mates from the side while on crutches.
Sir Alex gave me an extra year to get fit as I'd been injured. I got fit and played for the reserves, but I was never a star of that team. I'd missed the best part of two years' learning, and that damaged me mentally.
I had the ability but not the confidence. In the end, I ran out of time at United.
Sir Alex told me that I was a good player and helped me arrange trials.
Wolves gave me a year's contract. I was 19 and felt like I had a chance of making the breakthrough, but Graham Taylor, the manager who took me there, resigned. I was told that I wasn't wanted.
I later went to Watford as Taylor was there but was let go—though Taylor wrote to clubs recommending me.
I joined Plymouth Argyle, played first-team football as a professional, and things went well for two months until my other knee dislocated. I was told that it was unlikely that I'd play again.
I had to start thinking about my future and decided to do a university degree.
The perception was that I was a thick footballer, so I had to do a bridging qualification first. I worked hard and really enjoyed university—doing all kinds of part-time jobs.
Then I did a Masters and a teaching qualification before getting a job as the head of the academic department at UCFB—a higher education institution delivering degrees in sports and the football industries, based at Burnley and Wembley Stadium.
I call upon many of the contacts I made in football for speakers.
I look back at my football career with positive and negative feelings. I should have sorted my knee out when I first did it. I played too much in my early teens, and that led to an injury, but I made good friends at football and learned much, which helps with my current job.