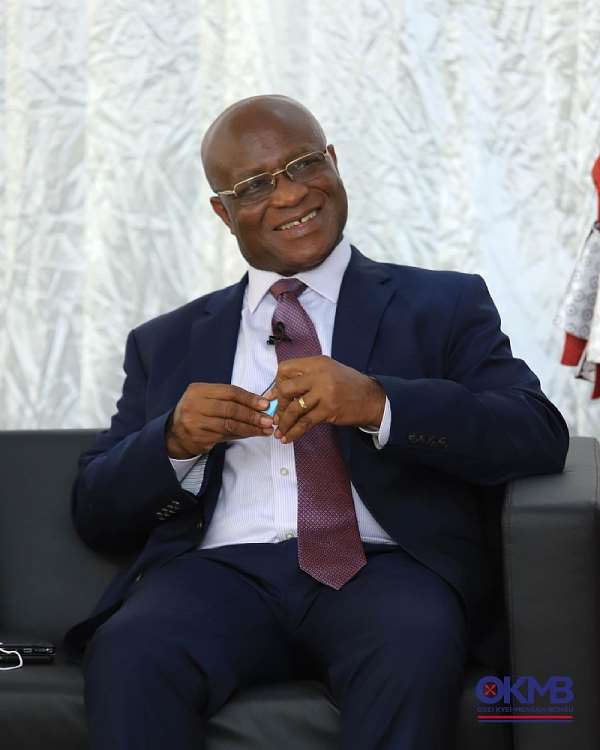 Listen to article
I bring to your doorsteps warm greetings from New Town a suburb of Damongo in the West Gonja Municipality of the Savannah Region.
My greetings is not only warm but peaceful because the Northern grassroot of your party is very much elated with you over your decision to speak the gospel in the "lion's den" and as brilliant as you are, I guess with every conviction and without any shred of doubt that you know what informed the decision of your party's Northern grassroot to be so happy with you and not anybody else.
Sir, am writing to you after happily reading from several news portals about some purported statements attributed to your courageous self which has not gone down well with some self-acclaimed big wigs of your party including a publicly disgraced former cabinet minister under Nana Addo's first tenure in office.
The said statements attributed to you in my candid opinion were well articulated, apt and your opinion is in consonance or in sync with a huge sentiments by a large section of the general public and as such, you must be celebrated for the bold step you have taken to drum home the need for your party ( NPP ) to field a non-Akan as your party's precursor ahead of election 2024 to defeat or erase the only God's know time tag on the NPP as pro – Akan.
Per the bricks of Democracy, it's always normal and expected that after making political argument (s), a handful and if not many would take difference to same and even when that happens, lessons are well learnt for the forwardness of the group/party but the difference some "Rambo dogs" associated your statements with are denigrating and treacherous which has the tendency to soar the seeming tension in your party over who replaces President Nana Addo after his second tenure in 2024 which must be condemned appropriately regardless of who is behind what.
In as much as I appreciate the rights of the handful of people who took difference to your harmless ethnic transposition, I find it gravely inappropriate the despicable manner in which some of these people are attacking you. It is not only shameless but hypocritical and what is more insulting is the fruitless attempt by them to create the impression that ethnicity plays no role in Ghana's body politics. Isn't that hypocritical and insulting?
Myself and some lucky discerning few Ghanaians have for some time now been challenging your party to exonerate itself from the tag on it that it's pro-Akan and the golden opportunity to do that is forever now than ever. So your candid proposition over who is right to succeed Nana Addo as flag bearer of the party is a call in the right direction which ultimately resonates with our over a decade challenge to your party of which I will personally on any given day like to associate myself wholeheartedly with.
Your assertion is not only apt, preemptive but wise and you must be applauded for that singular courage for the time to present a non-Akan person as flag bearer of your party is long overdue.
I must admit candidly that I was taken aback over the assertion (s) purported to becoming from your end because, you are an Akan yourself and aside been an Akan, you are equally competent enough to test the waters but you wisely as expected from a true party member overlooked your own chances of becoming the precursor of the party but veered towards the gospel path.
So the accusations that your assertion (s) therein is to satisfy or pursue your vice-presidential ambition is laughable and must be treated with the highest contempt it deserves. Warped perception isn't it? Warped because you are on record to have said that, it will not be a bad idea for Hon. Alan Kojo John Kyerematen to partner a non-Akan presidential candidate. So which vice presidential slot is still available such that you are after it?
Hon. Majority Leader, you assertion (s) are a hundred percent well backed by my able self ( not as a party member but one who supports nothing but the truth ) and many other well-meaning grassroots supporters of your party in the Northern Region.
Not long ago, a phony group and some societal misfits with the name tag "CONCERN NORTHERN GRASSROOT OF NPP" went about town denigrating your hard-earned reputation for their stomach over your harmless and well-crafted advance. The said phony group after thorough checks revealed it is unknown to the party " at all levels of its structures in the Region".
For this reason, am arguing you not to see the action of this wayward group as one that is recognized by the rank and file of your party in the Northern Region which seeks to betray you. But for the self styled and publicly disgraced former cabinet minister of Nana Addo's first term in office whose action (s) and inaction (s) derailed the efforts of president Nana Addo and his Government must not be taken serious and for this reason, I will leave it for another time/day.
Until then, Shalom, Peace!
Best regards!
By; Ezekiel Abdul Aziz
Cont: 0540686895/0595845084
Email; [email protected]
The writer holds a B.A. in Ghanaian Language Education ( Gonja ) with Linguistics as a second subject area from the prestigious University of Education, Winneba. He is also a Radio/Tv presenter from Damongo in the Savannah Region aspiring to become a Lecturer.