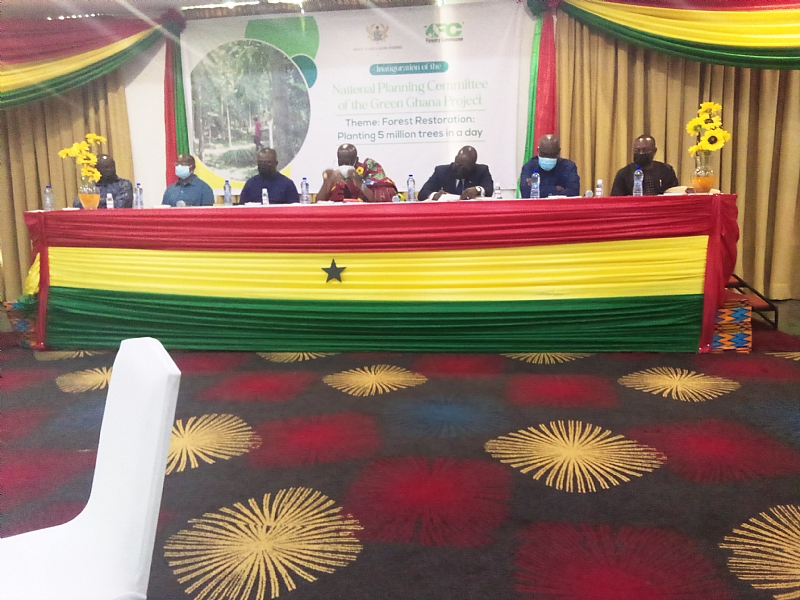 The Ministry of Lands and Natural Resources in collaboration with the Forestry Commission has inaugurated a National Planning Committee to undertake a 5million tree planting project in a day dubbed 'Green Ghana Project'.
Minister, Hon. Samuel Abu Jinapor, inaugurated the National Planning Committee today in Accra.
Addressing the gathering, the minister said, "the project will increase significantly the forest cover of the country."
According to him, the project will commence in June this year, with the President, Nana Addo Dankwa Akufo Addo planting a commemorative tree.
"Wherever you will find yourself on June 11, plant a tree, take a photo, post it and nurture it to maturity."
He mentioned that the exercise seeks to mobilize the mass population to plant trees on the day.
However, it is instructive to "nurture them to maturity to contribute to the preservation of our environment."
In view of this, "In the interim, government has since instructed the forestry commission, excerpt in exceptional circumstances not to issue forest entry permit for the purposes of mining."
He stresses that it is to reduce the impact of mining activities on the environment.
"This is an ambitious and audacious undertaken, so much is demanded of us but I've absolute confidence and the ability, commitment and patriotism of you members of the committee."
According to him, the depleting state of Ghana's forest reserves requires men of tenacity, competence and skill to enable the ministry to chalk the required success and that the government through the ministry is determine to achieve.