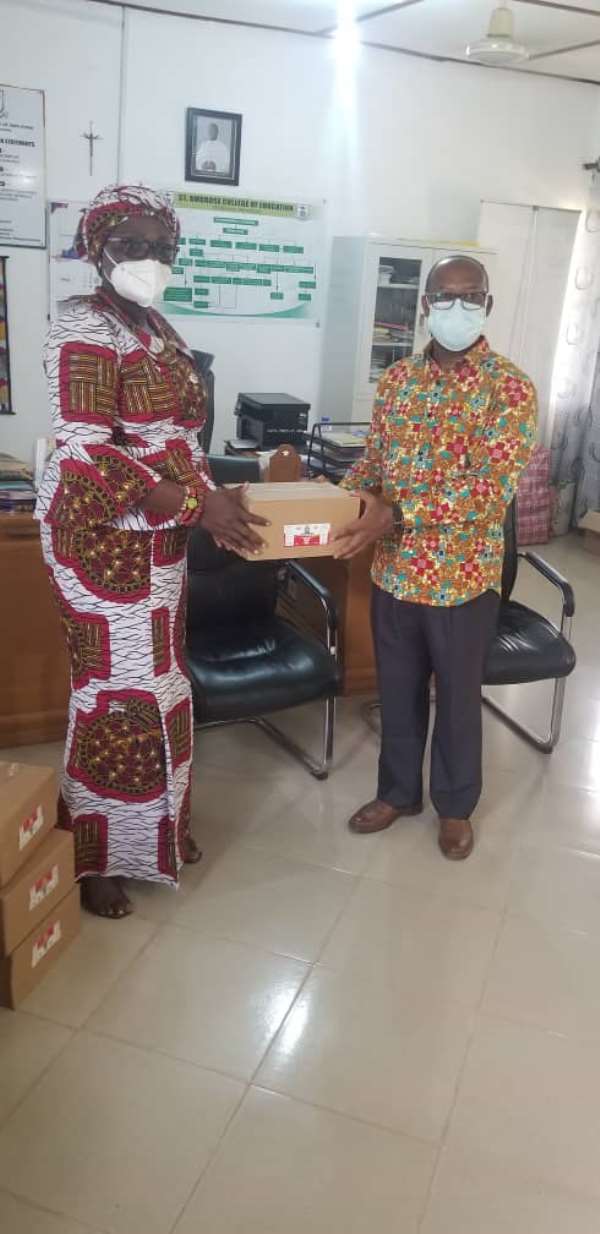 Listen to article
The Bono Regional Minister Justina Owusu-Banahene has been visiting some educational institutions to interact with students as well as managements and members of staff of those institution.
Last Monday, the Minister, in the company of the Regional Director of the Ghana School Feeding Programme, Doris Asoma, visited the Berekum College of Education at Berekum and the St. Ambrose College of Education at Dormaa-Akwamu.
The unannounced visits were also to interact and encourage students who were writing their examination to put in their best as well as check out measures being taken to safeguard the health of students, lectures and administrative staff and also ascertain academic progress of the schools.
At St Ambrose College of Education where the students were being vaccinated against Covid-19, the Minister dispelled rumours that the vaccines were unsafe and asked both students and staff to feel free to take the vaccine and also adhere to the safety protocols.
At separate meetings with the Principals of the two Colleges of Education, Madam Owusu-Banahene, who is a former tutor at the Berekum College of Education, said government was working tremendously to improve the infrastructural base of the various colleges across the country in order to boost teaching and learning.
Justina Owusu-Banahene appealed to the managements of the two colleges to "adhere to all the precautionary measures strictly and firmly in order to maintain a healthy and safer environment that enhances the academic achievement of students."
The Minister later donated some assorted Personal Protective Equipment (PPEs) including nose masks, hand-sanitizers to the colleges.
The Principal of the Berekum College of Education, Prince Yeboah Marfo told the Minister that limited infrastructure remains a major challenge facing the institution as it hampers efforts to admit more students.
He said although the College had stepped up preparations for the prospective students, they still need the intervention of the government to accommodate as many students as possible in order to face out the "in-in-out" system created as a result of the double-stream admission.