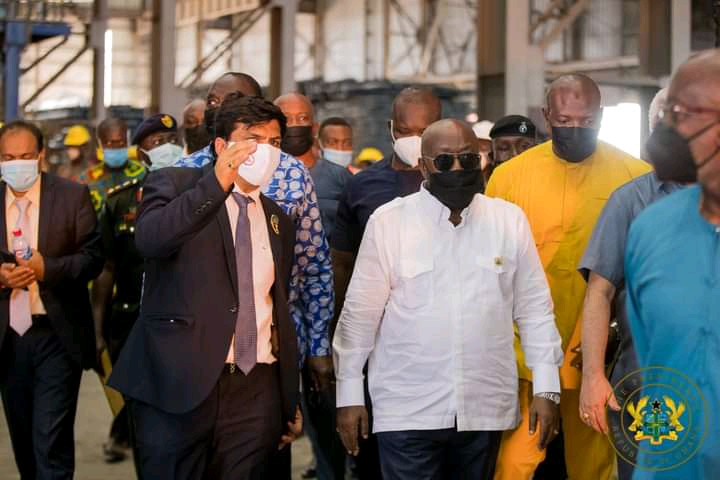 The Chief Executive Officer (CEO) of B5 Plus Limited, Mr. Mukesh Thakwani, has made a plea to President of the Republic of Ghana, H.E Nana Addo Dankwa Akufo-Addo to solve the recent water and electricity challenges.
The investor and his outfit have set up an $80 million steel company at the Larkpleku Village in Prampram and in the process are helping the ruling New Patriotic Party (NPP) to realize their One District One Factory (1D1F) promise to Ghanaians.
At a grand commissioning ceremony for phase one of the B5 Plus Steel Plant today, Mr. Mukesh Thakwani after expressing appreciation for the support received from the government has laid bare the companies challenges.
According to him, the water and power outage problems are being a hindrance and need to be solved once and for all to inspire the growth of the steel plant providing employment to thousands of Ghanaians.
"His excellency we are grateful for your guidance and encouragement under the 1D1F but we would like to shed light on a couple of challenges we are currently facing such as land acquisition, water supply, electricity supply, access roads, and traffic congestion on the Tema-Aflao route," Mr. Mukesh Thakwani said during an address at the commissioning of phase one of the steel plant.
He added, "Most importantly we request the government to impose an across-the-board Ban on certain finished imported goods like our African neighbors Nigeria, Gabon, and Ivory coast have done. Else it possesses a major threat to our industry and will affect operations. We are able to produce these products locally in excess quantities and can not only serve the Ghana market but its neighboring countries too."
Meanwhile, in a response to the request, President Nana Addo Dankwa has assured B5 Plus that his government will see to it that all the challenges are addressed.
Adding his voice, Hon. Alan Kyerematen who is Minister of Trade and Industry emphasized that the Indian-owned company will receive the necessary support to foster its growth.
The newly-commissioned B5 Plus Steel Plant will become the largest of its kind in West Africa when it's phase two is completed.
Currently, B5 plus is a double A-rated company and in the process of getting ISO certification.
They have become a one-stop-shop for iron and steel with a huge product base including Galvanized mesh, wire mesh, roofing sheets, nails, binding wire, steel plates, angle irons, U channels, Z perlins, C perlins, square pipes, round pipes, profiles and many more.