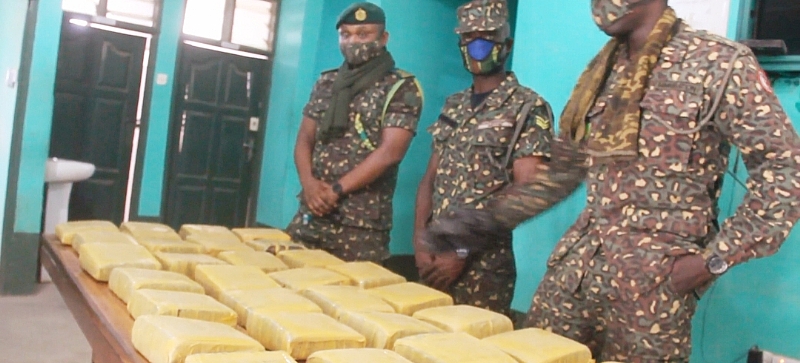 The Ghana Immigration Service in Zebilla in the Bawku West District of the Upper East Region has intercepted a substance suspected to be india hemp.
A patrol team deployed to sapelliga operational area to monitor activities along the various unapproved routes of entry and exit has intercepted thirty compressed parcels suspected to be india hemp.
The suspect was on board a Sanya unregistered motorbike loaded with the suspected india hemp.
The suspect was smuggling the compressed parcels (Marijuana) through sapeliga, Ghana and to Youga in Burkina Faso.
According to the immigration command, the suspect took to his hills and was given a hot chase. The suspect managed to escape arrest leaving his motorbike behind.
The substance and the motorbike has been retrieved and handed over to the Zebilla police command for further investigations.
Meanwhile the immigration command has arrest persons carrying illegal arms. They have been handed over to police for investigation
According to the Zebilla immigration commander, Chief superintendent, David Aseidu -Addo, Sapelliga zone used to be a haven for criminals due to the mining activities at Youga in Burkina Faso near Sapeliga, Ghana.
But with the help of the Operation Conquered Fist Personnel team the situation has minimized.
Mr Addo said the command will intensify surveillance and visibility to make sure all criminals especially illegal drug dealers are arrested.