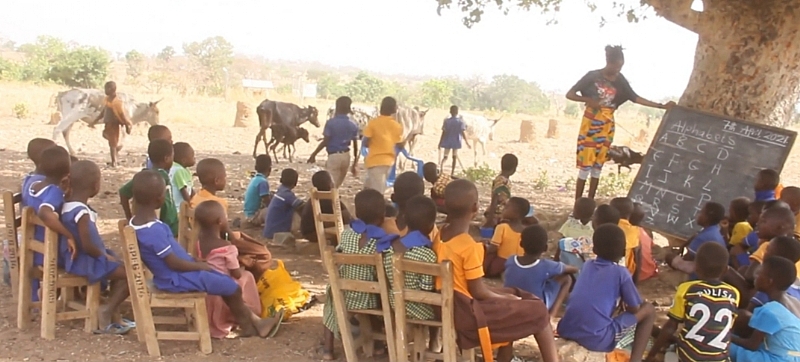 Pupils of Asobelaga Anglican primary school in Gbantongo circuit in the Bawku West District of the Upper East Region constant fight snakes and animals before they can have access to class under trees.
The school which has a population of over three hundred pupils has only a 3unit classroom block built by community members since its establishment in 2012.
Class 6, 5 and 2 are occupying the three classrooms whiles Class 4, 3, KG 1 and KG 2 are made to learn under trees.
The walls of the classrooms are weak, windows are hanging loosely whiles doors are completely ripped off.
The situation has compelled the pupils to sit in makeshift structures, under trees, on stones and trees roots for lessons.
Work on a six-unit classroom block being constructed by the former MP of the Zebilla constituency Hon. Frank Fuseini Adongo has been abandoned at floor level. The few dual desks have broken down.
Ayeebo saviour, a class 4 pupil's says, they are not comfortable learning in an open place and that, snakes and insects destruct them.
According to the Assistant Headteacher of the school, Abodingo Augustine, the situation is seriously affecting teaching and learning.
He said the pupils are exposed to harsh weather conditions. He added that efforts have been made to inform the Assembly to assist but to no avail.
A class 4 teacher, Sarpong Gideon, said they have had to battle with dust and the scorching weather in the open space.
Madam Akogti Angela, a KG 1 and 2 teacher, said the situation is worse especially during the rainy season.
According to her, anytime it rained, classes automatically end. She said pupils who sat under trees have to run to the dilapidated structure to seek refuge.
She noted that goats, sheep and cattle often flood the school compounds to graze. "Sometimes, those who sit under trees are also exposed to reptiles and they usually lost concentration to animals that graze on the school compound."
PTA chairman David Atampuri said he has had sleepless nights over the situation particularly the ongoing project which has been abandoned.
Dambilla Daniel, SMC Chairman laments that the pupils come and leave the school looking very dirty.
Meanwhile, the PTA also lamented that the blocks being used on the ongoing project are of low quality and will not be accepted for it to be used.