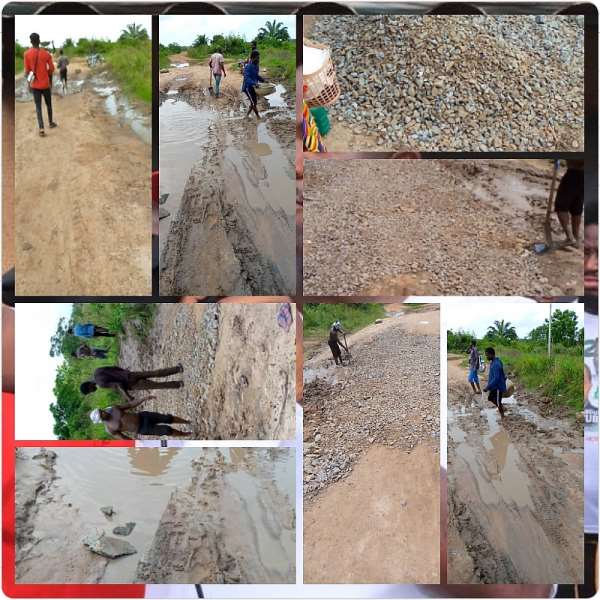 Listen to article
Assembly members for the Avevi Zemu and Agormor Agado Electoral area all in the Akatsi North District of the Volta Region, Hon. Cephas Weto and Hon. Anthony Sakatsi say the road connecting Akatsi through to Zemu to Agormor "is in a terrible shape."
Hon. Cephas Weto, Assembly Member for Agormor Agado Electoral Area has communicated grave worry about the unfortunate road network in the area.
Meanwhile, residents of Agormor, Avevi, and Zemu have also added their voice to appeal to the government of Nana Akufo Addo as a matter of urgency to fix their dreadful road From Akatsi to Agormor.
They say due to the bad nature of the road they are unable to transport their farm produce to the market and they are also forced to pay monstrous fares for transport.
They made this appeal when the assembly member for Agormor Agado, Hon. Cephas Weto and Hon. Anthony Sakatsi organized communal labor to fill some deep potholes on the road linking the two District capitals.
Speaking to the Akonews.com reporter on the ground, the worried Assembly members added that, "It is affecting us so much to the extent that commercial activities have come to a standstill. Business Women and Farmers are unable to carry their farm produce to the market for sale; Besides cars carrying passengers on the road charge outrageous transport fares looking at the nature of the road, avoidable accidents happen on the road every time because of the nature of the potholes.
…Road users tried to dodge the potholes resulting in unnecessary accidents, motorists knocking down commuters, and sometimes vehicles running into each other. We are therefore calling on the government through the Media and the Akatsi North District Assembly to come to our aid and the government to put pressure on the contractor to hasten work on the road the previous NDC government started.
We also want to call on the Hon. Member of Parliament for the area to add his voice so that work on the road will be done quickly "
They urged the government to impress upon the contractor to hasten the construction of the road as it has been awarded on contract by the erstwhile Mahama's Administration.
The Akufo-Addo government in its initial term labeled 2020 as the "year of Roads", with the guarantee to leave on a forceful street improvement the Nation need.
It would be recalled that President Akufo-Addo promised to focus on street development in 2021 to guarantee that countless kilometers the Nation need are placed fit.
"Our streets are being built at a lot quicker speed than previously and yes I recognize that there are as yet a lot more kilometers to build.