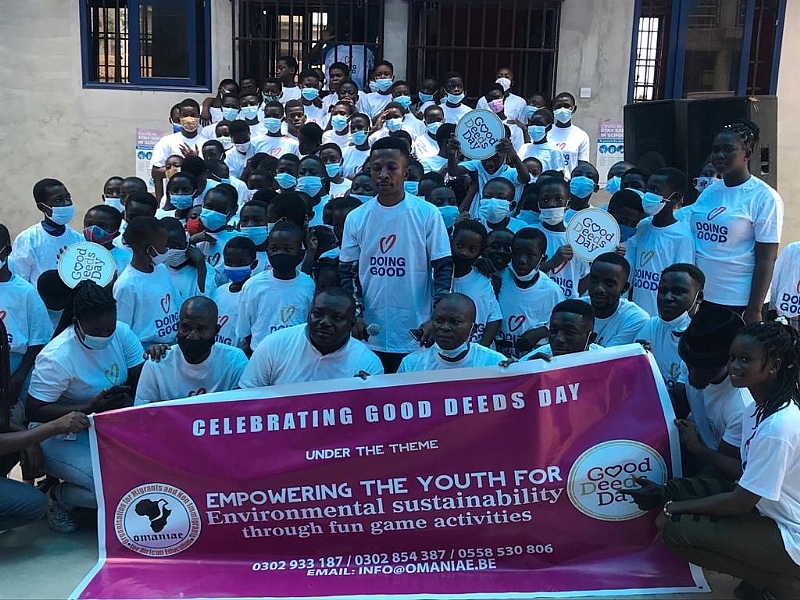 Organization for migrants and non-immigrants for African education (Omaniae) on Friday, April 16, 2021, showed love to students of Lead Royal Home International School located at Mandela No.3 in Weija to celebrate World Good Deeds Day.
Good Deeds Day is an annual celebration of Doing Good. Over 4.2 million people from 186 plus countries around the world choose to do good by helping others, putting into practice the simple idea that every single person can do something good in his or her community, be it large or small to improve the lives of others.
Yesterday, Omaniae with the help of Good Deeds Day Ghana Network observed the occasion by spending time with school children at Lead Royal Home International School while empowering them in the area of migration.
On the day, the organization donated packs of bottled water, assorted drinks, as well as food and t-shirts to the school kids to inculcate the habit of doing good in them.
In addition, officials of Omaniae including Chief Executive Officer (CEO) Mr. Richard Osei Bonsu and other regional coordinators also took time to educate the kids on the dangers of pursuing illegitimate means to travel abroad.
Speaking to Modernghana News on the sidelines of the event, Mr. Richard Osei explained that it is critical for children at such young ages to be guided "so they do not grow up to repeat the mistakes of others."
According to him, psyching the kids now will help them make better decisions later in life as far as chasing greener pastures abroad particularly through connection is concerned.
"Ghanaian youth prefer traveling than staying here to work. Some use illegal means through the desert or via sea and end up losing their lives or getting into trouble.
"These young ones will eventually grow and we want to make sure they have the right orientation and that's why we are here to engage and guide them," Mr. Richard Osei Bonsu said in the interview.
While advising today's youth to use the right channels to travel, the Chief Executive Officer of Omaniae also called on the government to clamp down on agencies misinforming the youth about easy opportunities to work abroad when there have been numerous cases of people getting duped or treated to harsh conditions if they are lucky to travel outside.
Having seen pupils of her school benefit on the day, Proprietress of Lead Royal Home International School, Lydia Oppong Boateng extended appreciation to Omaniae for the show of love.
"To be here to make us happy means a lot to us and we want to say a very big thank you to them," she said.
With the school faced with a bad road network at Mandela No.3 inside Weija, the Proprietress called for government support while pleading on other NGOs to provide support to cater to needy school children.
About Omaniae
Organization for Migrants and non-Immigrants for African Education (Omaniae) is a non-governmental organization founded by Richard Osei Bonsu to promote welfare activities aimed at alleviating human suffering through migration and overall ameliorating of society especially for migrants in home country (Africa) and irregular undocumented migrants living in Europe.