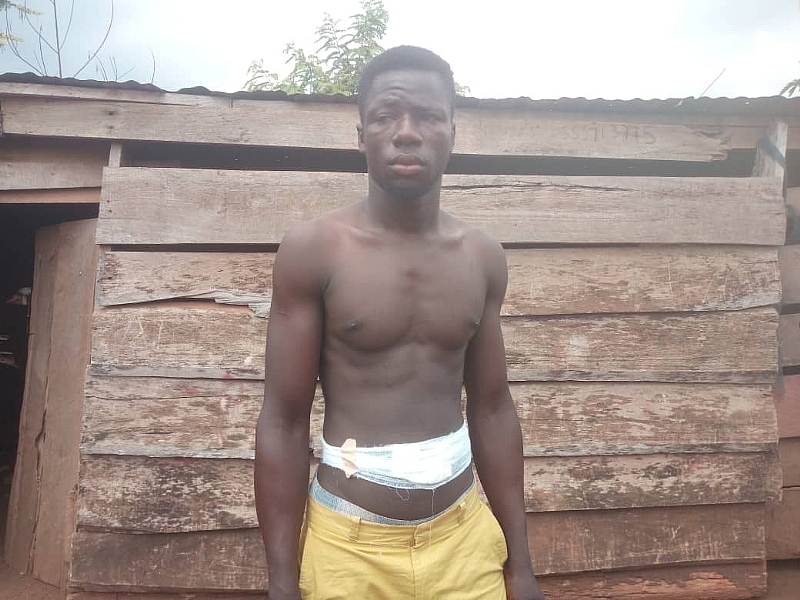 Four persons sustained multiple cutlass wounds while several other residents of the Nyamebeye-Beposo community near the Newmont Resettlement Camp at Kenyase in the Ahafo region sustained various degrees of injury when a group of young men, who were wielding all kinds of deadly weapons attacked them for preventing some workers of Newmont Goldcorp from forcefully invading their lands.
The alleged assailants, who claimed to have been sent by Newmont and Kenyase Number Two Traditional Council to carry out their dastardly act, reportedly told the residents that nothing would happen to them because they have the full backing of "big men".
The four persons who were severely injured in the process are Adams Awinde, John Ayariga, Charles Adam and Imoro Goji. One Anane Folly, who was videoing the brutality was not spared by the heavily-built "thugs" as he was allegedly beaten.
They were all rushed to the hospital and are currently nursing their injury. There has been no arrest at the time this report was being filed (one week after the incident).
Speaking to our reporter at Nyamebeye-Beposo, the community members said they would continue to resist any attempts by both Newmont and the traditional council to push them out of their lands unless they were adequately compensated and resettled per the laws of Ghana.
Facts of the matter
Narrating his ordeal to the media, 27-year old carpenter, Adam Awinde said he and his compatriots were at their community last Monday April 12, 2021 when they saw some heavy-duty trucks and machines believed to be working for Newmont started undertaking some construction works very close to them.
As a result, he continued, the entire Nyamebeye-Beposo community was engulfed with dust while the vibration of the very land they were staying with their families was too strong due to the construction works.
"We therefore approached them and tried to find out from them why they were subjecting us to such inhumane treatment but all of a sudden we saw some irate youth wielding machetes and other offensive weapons coming from the Kenyase town towards us.
"They jumped on me, beat me up mercilessly and inflicted multiple cutlass wounds on my body, especially my abdomen and said they were sent by the chief of the area and Newmont to carry out that act", he alleged.
He said even though he lodged an official complaint at the Kenyase Police, he had not heard anything about the issue almost one week after the incident.
He added, "the guy who inflicted cutlass wounds on me saw me today on my way to the hospital to treat my injury and said they would soon come again with soldiers so I am appealing to the DCE, the MP and others to come to my aid since I can no longer continue with my carpentry works due the pain I'm currently going through."
Another victim, Imoro Goji, a 46-year old farmer recounted that Newmont had been engaging them for some time on their resettlement and compensation due them but no conclusions have been reached yet and wondered why the mining giant would want to force them out of their place of residence without any recourse to the laid down rules and regulations, and international best practices.
"When we tried to find out from the macho-men why they were beating us like the way they did, they told us that they were sent by Newmont and Nananom and that when we were migrating from the north to this place, we did not come along with any land."
The Ahafo Regional Public Relations Officer of the Ghana Police Service, ASP Isaac Kwame Loh, confirmed the incident when contacted but some of the complainants have not submitted their medical reports to the Police, thereby hampering investigations "and I think they're not co-operating well enough, hence our inability to effect any arrests so far."
He said, for an assault case, there is the need for a medical report but that is not forthcoming and appealed to the complainants to co-operate fully with the Police to aid investigations into the matter.
Case not over yet
Meanwhile, the Assembly-member for the Dormaa Electoral Area at Kenyase, Ibrahim Issifu, says he would pursue the case and strive to achieve justice for all the people involved.
"When this issue started we held various meetings the then Ahafo Regional Minister, Evans Opoku Bobie and Nananom but it does appear that there is a conspiracy against we the northerners but I promise to follow this case with all my strength, even with my last blood", he told our reporter last weekend.