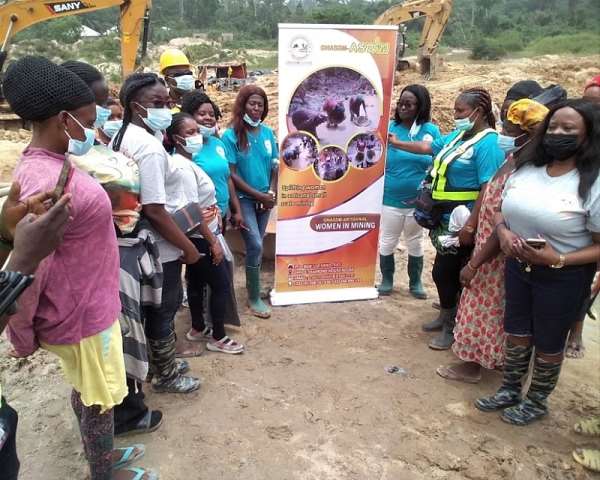 ASWiM on Field Outreach Program at Ntorbroso, Bibiani
Listen to article
The Ghana National Association of Small Scale Mining (GNASSM), recognizing the potential role of women in the artisanal small-scale mining sector is working tirelessly to push more women at the forefront and to promote the active role of women in the artisanal & small-scale mining sub-sector.
GNASSM National Women's Coordinator, Mrs. Victoria Adobea Guerrieri, during an outreach program to empower women at Ntorbunso in the Atwima Mponua District of the Ashanti Region elaborated that GNASSM will not relent on its efforts to making ASWiM attractive and very lucrative in the country.
Mrs Victoria Adobea Guerrieri says Artisanal & Small-scale Women in Mining (ASWiM) is worried that: "In 2019, the government of Ghana announced mining had generated $3.3 billion through exports" and therefore the question is small-scale mining contribution to exports were making mining a major Forex earner for the country, why wouldn't more women participating progressively in and benefiting from the industry".
After all, women represent 40 per cent of the country's mining population, but only 10 per cent (10%) either own concessions or are in mining exploration, and this is worrying and very appalling. According to GNASSM, they believes the women are either ignorant of the opportunities or feel culturally inferior to the men largely benefiting from the industry, therefore GNASSM-ASWiM is working hard to address these gender disparities in the mining sector by empowering artisanal (kolikoli) women in artisanal & small scale mining.
GNASSM, in collaboration with Solidaridad West Africa, an NGO donated items such as Wellington-boots, Raincoats, Goggles and Hand Gloves to the women in Ntorbunso to boost their moral and encourage more women to engage in responsible mining activities.
Delivering the afore-mentioned items to the women, Mrs. Victoria Adobea Guerrieri reiterated that, GNASSM-ASWiM wants to empower women and advance their careers in mining, therefore tasked the Ten (10) district women organizers of GNASSM to earmark an area each for impending subsequent Outreach and Training, including equipping them with the knowledge on Child Labour, Mercury, Health & Safety, and Girl-child education for responsible mining.
She finally announced the landmark collaboration between GNASSM and Goldridge Ghana Limited, in the introduction of Technology, Supply equipment and Implement environmentally friendly mining practices, which has come timely in this women emancipation in the artisanal & small scale mining industry.
On his part, Mr. Abdul Rauf Suleman – the Programs Officer for Solidaridad West Africa said his outfit will also at all course do their best to support GNASSM-ASWiM to improve women and develop their skills to suit the artisanal & small-scale mining sub-sector. He continued that, they will work hand-in-hand with GNASSM-ASWiM to make mining attractive to women to join together to take up concessionaires and stop the 'kolikoli' in the sub-sector.
To further encourage women to seize opportunities in the sub-sector, the Assistant Atwima Mponua District Mining Officer of the Mineral Commission, Mr. Emmanuel Bani said his team is also determined to map gender representation across the district's mining value-chain. "This will enable the District and the country as a whole to identify and fill gender gaps between males and females concessionaire in the sector and increase the number of credible local and international investors into mining to benefit women," says Officer Emmanuel Bani.
Finally, the beneficiaries mostly appreciated GNASSM-ASWiM and Solidaridad WA donation to them and also called on Government and Development Partners to follow suit with support, especially the provision of life jackets; as they have to sail across the River Offin before they can access the mining site in a rickety canoe daily without life jackets.
(Source: Nii Adjetey-Kofi Mensah, GNASSM Secretariat, Diamond House, Accra.)