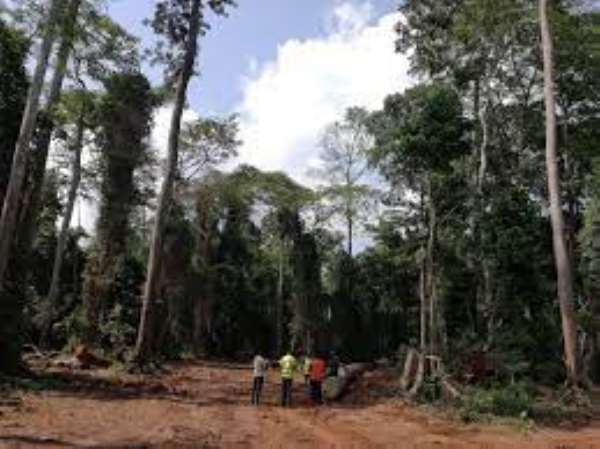 Listen to article
A platform of CSOs, NGOs, and Individuals for FLEGT-VPA implementation in Ghana is calling on the European Union (EU) to invest in identifying bottlenecks impeding the programme.
The Ghana/EU FLEGT-VPA is a bilateral agreement between the EU and Ghana, with the objective of enhancing forest sector governance and ensuring that timber and timber products traded on the domestic market and exported to the EU are produced in compliance with existing Ghanaian laws, rules and regulations.
For the past 12 years, through unprecedented multi-stakeholder efforts, Ghana has been working to implement systems aimed at meeting the requirements of the agreement.
In September 2020, the European Commission working through the Directorate-General for Environment (DG ENVI) unilaterally decided to evaluate and assess the effectiveness of the FLEGT initiative and held an EUTR and FLEGT-VPA fitness check public consultation.
The interim findings of the fitness check arrived at the conclusion that there is no evidence that VPAs have contributed to reducing illegal logging in the partner countries and the consumption of illegally harvested wood in the EU.
Based on these interim findings, officials of DG ENVI have made public pronouncements of considering other alternative support mechanisms in the future to enable partner countries to comply with EU requirements with the intention of revoking the FLEGT-VPAs.
In a joint press release from the platform of CSOs, NGOs and Individuals for FLEGT-VPA implementation in Ghana to address the findings, they say there appears to be a fundamental lack of appreciation of the status of VPAs.
They add that it is premature for DG ENVI to begin to undertake a fitness check on a process that has been slowed by improper assumptions made at the conceptualization stage, internal procedural inertia on both the side of the EU and Ghana.
"On the substance of the key findings, ee find it rather contradictory that in one breath the findings indicate that there has been improvement in forest governance then goes on to conclude that VPAs should be replaced with a " watered-down" version which will not guarantee governance reform. This shows a clear lack of appreciation of the combined effect of governance reform that has taken place in country," part of the joint press release reads.
While the platform of CSOs, NGOs, and Individuals for FLEGT-VPA implementation in Ghana admit that progress to licensing is slow, they say they remain committed to the process as they see significant reforms and greater legal compliance.
"We recommend investing in identifying the bottlenecks that are impeding the process in various VPA countries such as declining political commitments and supporting producer countries to resolve these challenges. VPAs are not perfect, but in Ghana, VPAs have brought real transformational change to the forest management and governance sector," part of the release emphasised.
In conclusion, the platform of CSOs, NGOs, and Individuals for FLEGT-VPA implementation in Ghana emphasizes that if the EU continues to fiddle with programmes, it will soon lose credibility.
Find below the full press release from the platform of CSOs, NGOs, and Individuals for FLEGT-VPA implementation in Ghana: