On Wednesday, April 28, 2021, King James Foundation, a humanitarian-oriented organisation commissioned an ultra-modern toilet facility for the people of Ashiweniagmor, a community within the Ga South Municipal Assembly, Accra.
The facility which aimed at curbing open defecation which the community was faced with due to the lack of a public toilet facility, comes with a 10-Unit Toilet, 4-Unit Bathroom, an Office, a Cleaners' Room, and an Attendants' Office.
In an interview with the Chief Executive Officer of King James Foundation, Apostle James Solomon Mensah, he mentioned that the facilities were essential for human health and individual dignity, adding that, it was relevant for every community to have access to a toilet facility.
According to him, people chose open defecation because of the lack of toilet facilities and his team was pleased to commission the facility to serve humankind.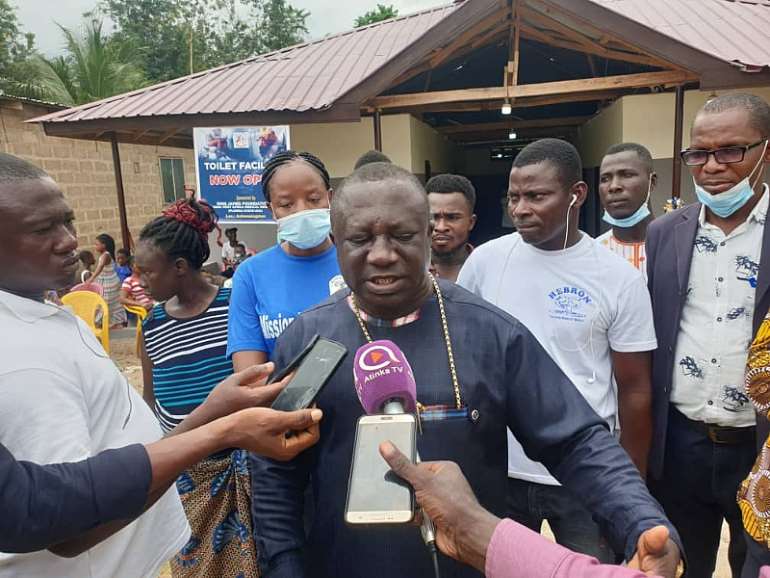 He emphasized that open defecation has been a leading cause of diseases like Cholera and Typhoid, in the community, urging the residents to desist from such acts.
Apostle Mensah then called on the community to make use of the GH¢200,000 toilet facility since it was essential for the good of the people.
He then appealed to both the operator and users of the facility to observe a culture of maintenance and proper usage to ensure the longevity of the facility.
"I would like to urge all to take very good care of this facility and observe all good practices so that it can last long to serve generations yet unborn" he advised.
He has seized the opportunity to Call on colleague men of God, NGOs, and individual who has to extend their hands to the community in which they live in order to grow the country together.
"I have a passion to serve humanity, I sacrifice the little I have to serve people. We don't wait for anyone white man or woman to come and give us before we commenced something. I do call on my friends to help but as you know some do and some dispute. We don't have the money but we try to be citizens, not spectators just like the president said. The president can't do it alone let's all try to help the communities in which we found ourselves in the small ways we can to make Ghana a better place for all of us", he said.
Residents in the community were excited about having the facility in the community and praised King James Foundation for their assistance.
" We are extremely happy because we have not had such a conducive place to visit after meals for decades. Open defecation has been on the rise in this our community which has resulted in a lot of water-borne diseases. Seriously we don't know what we would have done if it hasn't been for Apostle James, we to say a very big thank you and may God bless you. I also want to promise you that we will do everything humanly possible to maintain and protect it for future generations" said Nii Ayitey Ocran, Regent, Ashiweniagmor.
In similar news, the foundation has handed over three newly constructed boreholes to three different communities.
The gesture form part of the foundation's agenda 'One Community, One Borehole'in all vulnerable communities in Accra and beyond.
Speaking to this Reporter Beyonce Diamond Kpogli, Hon. Mohammed Nii Boye Ayi, Assemblymember for Ayika Doblo electoral area commended Apostle James Solomon Mensah for embarking on such a huge task to provide clean water for the community, saying it will be of great relief to the community.
"During the dry season, we suffer a lot because our source of water which is Doblo River dry up so with this borehole it will go a long way for us".
For his part, National Democratic Congress (NDC) Constituency Chairman for Domeabra Obom Constituency, Isaac Awukuyibor also expressed his heartfelt gratitude toward Apostle James Solomon Mensah's agenda and prayed for more strength from above to execute them.
The projects were in partnership with Ghana West Africa medical mission Incorporation, Florida, U.S.A.