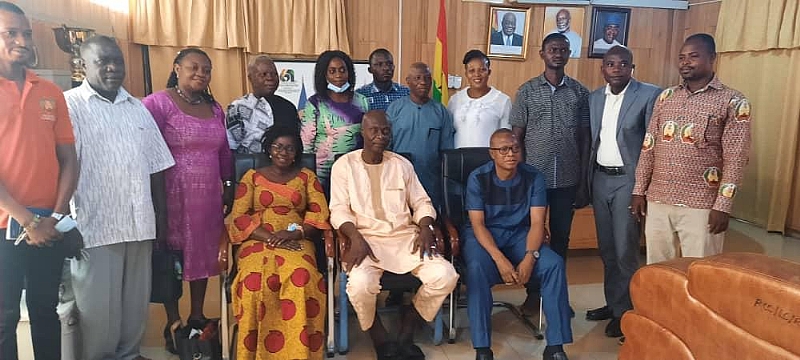 The Northern Regional Minister, Alhaji Shani Alhassan Shaibu, urged workers to contribute their quota to national development by strengthening their commitment to every task assigned to them for productivity to pave way for development in Ghana.
He said this at a courtesy call paid on him at his office by the leadership of organized labour in the Northern Region.
In addressing concerns raised by organizing labour on issues of salary increment for workers to enable them to meet increasing prices of goods and services, he assured them that, their concerns will be pushed to the top for attention.
"Ghana development largely depends on the labour effort, hence the labour force should be treated fairly," he said.
The Courtesy Call
The call was part of the leadership of labour force arrangement ahead of this year's May Day Celebration.
The leadership harness the opportunity to congratulate the minister on his appointment as the regional minister and also called on him to address the leaders of workers at the May Day Celebration at GNAT Hall in Tamale.
The Northern Regional Secretary of the Organized Labour, Felicia Kraja, on behalf of the leadership, assured the minister of their support, as the organized labour and the regional coordinating council are collaborates, and work to ensure industrial peace in Northern Region.
The Chief Director/RCD of the Northern Regional Coordinating Council, Alhaji Alhassan Issahaku said, the minister's success largely depends on the various sectors in the region, hence, the minister has demonstrated his determination to provide that leadership as he is been able to meet and interact with heads of departments within this short period of office.
He commended the leadership of organized labour, adding that, they have been working closely with Regional Coordinating Council, and never hesitated to draw the attention of NRCC to their intervention to any issues that threaten the labour front.